Breaking Barriers is a peer organization established as a support network for Women in the Sign and Graphics Industry of Canada.
Our Mission: By creating a network through coaching education and mentorship, we inspire and empower women in their ever-changing roles in the Canadian Sign and Graphics Industry.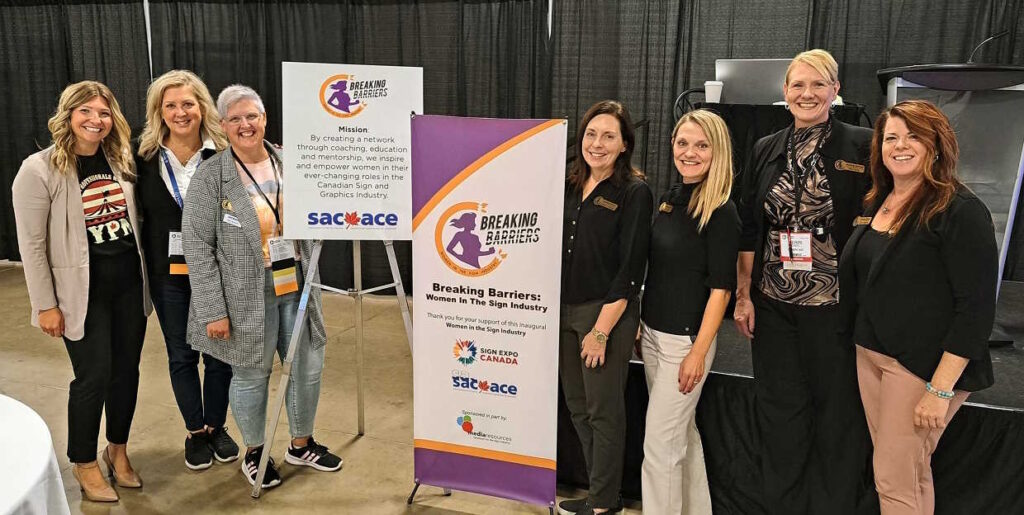 Upcoming Events
Embracing and Leading with Empathy in 2023
Join us for an empowering Breaking Barriers session titled "Embracing and Leading with Empathy in 2023", where we delve into the transformative leadership principles of Dalia Feldheim's book, "Dare to Lead Like a Girl."
Discover how embracing conventionally feminine leadership traits can combat burnout and foster a more collaborative and empathetic workplace.
What to expect from the session:
Interactive discussions on key takeaways from "Dare to Lead Like a Girl"
Networking opportunities with other women professionals in the sign industry
"Aha" moments and real-life lessons learned from women leaders in the industry
A chance to win one of five "Dare to Lead Like a Girl" books we will be giving out to attendees.
Past Events
Breaking Barriers: Challenging Your Sacred Cows, March 8, 2023
BCSA Sign & Graphics Expo – Breaking Barriers: Strategies for Self Promotion, April 29, 2023
Breaking Barriers Mentoring Program Pilot – Mentee Applications, March 30, 2022
The Icebreaker Sessions: Turning Lemons Into Lemonade in 2021, February 11, 2021
How To Transform Into A Super Mentee While Growing Your Impact As A Mentor, August 19, 2021
The Workplace Shift: Before, During and After Covid
Breaking Barriers: How Women Rise, September 15, 2020
Breaking Barriers: Building Your Personal Brand, August 12, 2020
Breaking Barriers: Dealing with Hard Conversations, July 15, 2020
Breaking Barriers: Women in the Sign Industry, September 20, 2019
As always, our Breaking Barriers events, the presentation component of the session will be followed by conversations in smaller facilitated virtual groups where we will delve into specific examples, which will help attendees understand the concept better. By learning how to identify and challenge the things that seem immune in your organizations and life, you open the door to a new era of possibilities professionally as well as within your business.
Past Ppresenters
Kerri Eady, General Manager, Gemini and Breaking Barriers Task Force member
Alexia Vernon, Founder and President of "Step Into Your Moxie", author, leadership coach, and award-winning speaker
Glain Roberts-McCabe, Founder & President of The Roundtable and master leadership coach
Tanya Mailhot, 3M Canada
Lee Murphy, Access Signs
Lori Anderson, President and CEO, International Sign Association
Nikki Boechler, Assistant Director of Operations, Western Canada, Pattison Sign Group
Kerri Eady, General Manager, Gemini Canada
Susan Svotelis, Canadian Sales Manager, SloanLED
Build relationships with gain perspective and learn valuable skills from the top industry veterans, leaders and decision makers at various levels in the sign industry. Join a community of passionate professionals dedicated to advancing the position of women in the industry.