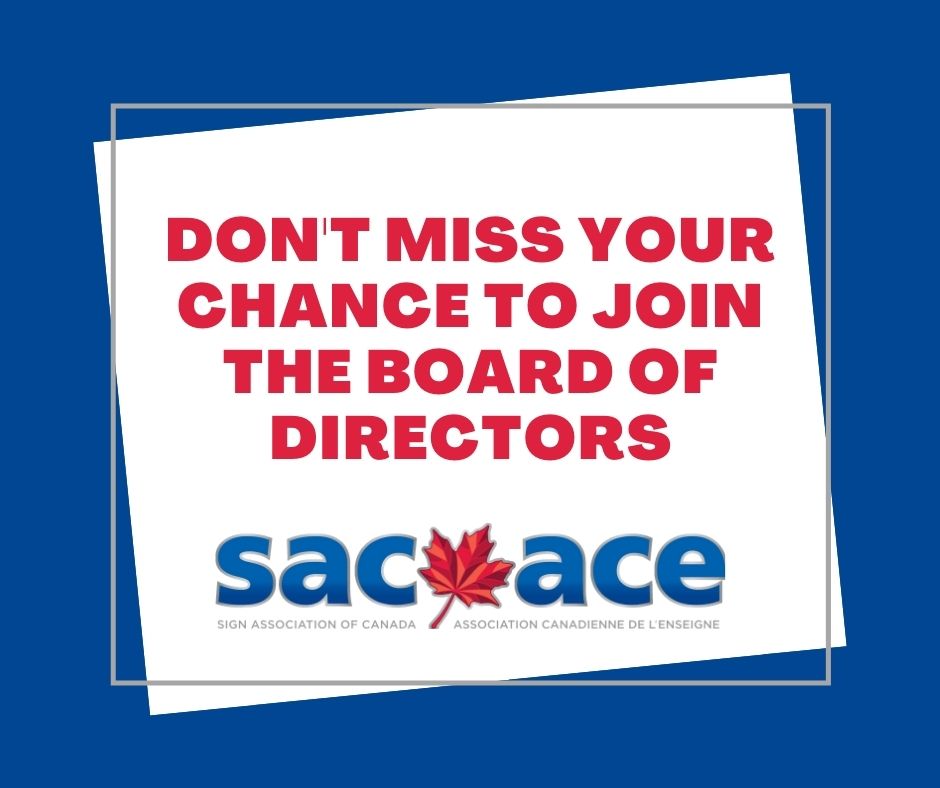 The Sign Association of Canada (SAC) is conducting a "Call for Nominations" for the national board of directors. We are looking to fill 1 (one) Director at Large position. Our board members are dedicated to advancing the sign industry while also improving and expanding upon national and regional programs and services that support and benefit the profession and our membership. SAC's Board of Directors sets national priorities for the association and provides leadership for the sign industry.
The nomination process is designed to identify, encourage and enlist the active participation of dedicated professionals in the service of the Sign Association at a leadership level.
Want to apply? Nominees must be members in good standing with SAC voting privileges and must submit their application form by March 30, 2023 to info@sac-ace.ca.
C'est votre chance de vous joindre au conseil d'administration de l'Association canadienne de l'enseigne!
L'Association canadienne de l'enseigne (ACE) organise un «appel aux nominations» pour son conseil d'administration national. Nous souhaitons remplir un poste de directeur ou directrice désigné(e). Les membres de notre conseil d'administration se consacrent à l'avancement de l'industrie de l'enseigne tout en améliorant et en développant les programmes et services nationaux et régionaux qui soutiennent et bénéficient à la profession et à nos membres. Le conseil d'administration de l'ACE établit les priorités nationales pour l'association et fournit son leadership à l'industrie de l'enseigne.
Le processus de nomination est conçu pour identifier, encourager et assurer la participation active de professionnels dévoués au service de l'Association de l'enseigne au niveau du leadership.
Ça vous intéresse? Les candidats doivent être membres en règle, avec un droit de vote au sein de l'ACE, et doivent transmettre leur formulaire de candidature d'ici le 30 mars, 2023 à info@sac-ace.ca.