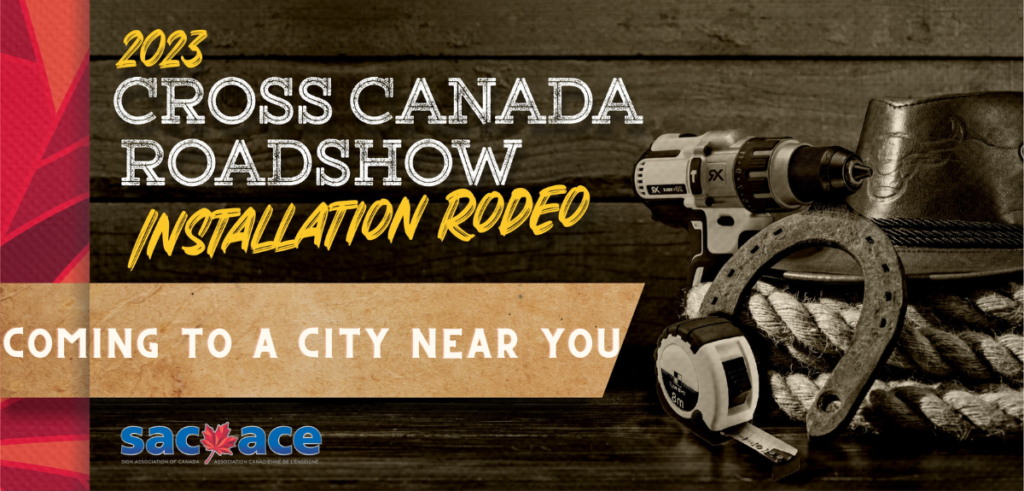 Saddle up and be part of a trailblazing endeavor to raise the bar on the sign installer profession in Canada by creating a set of standards that all professional installers should abide by, and end users should expect.
Sign installers are oftentimes the underappreciated segment of the sign industry. Regardless of the inclement weather, sign installers are out there putting up signs. We have all heard stories of sign installations: the good, the bad and the ugly. Installations can make or break a project.
Our goal for this event is to start a national dialogue and build a foundational set of agreed upon standards, for all members to use. We will begin at the bottom of the proverbial mountain: by reviewing and building a generic site survey and identifying best practices to be reviewed prior to each job: such as, but not limited to, safety, insurance, staffing, equipment and permits. By having this discussion from coast to coast, we are also looking to grow our national network of sign installers. Ultimately, our goal is that the set of agreed upon standards will improve the overall quality of installation work out there.
We hope you will join us on this "rodeo" and be part of the national dialogue.
This event is free for members to attend…
April 20
APC, Moncton, NB
20 avril

REGISTER NOW

April 28
BCSA, Burnaby, BC
28 avril
May 2
ASA, Edmonton, AB
2 mai
May 4
SSA, Saskatoon, SK
4 mai
May 18
OSA, Mississauga, ON
18 mai
May 25
MANSA, Winnipeg, MB
25 mai
May
AQIE, QC
mai
Montez en selle et participez à une toute nouvelle initiative pour relever le niveau de la profession d'installateur d'enseignes au Canada en créant un ensemble de normes que tous les installateurs professionnels devraient respecter et auxquelles les utilisateurs finaux devraient s'attendre.
Les installateurs de panneaux sont souvent le segment sous-estimé de l'industrie de l'enseigne. Beau temps, mauvais temps, les installateurs de panneaux sont sur le terrain pour les installations. Nous avons tous entendu des histoires d'installations de panneaux : les triomphes, les grandes aventures… et les histoires horreurs. Les installations peuvent faire ou défaire un projet.
L'objectif de l'événement est d'entamer un dialogue national et d'élaborer un ensemble fondamental de normes convenues que tous les membres pourront utiliser. Nous commencerons par le bas de la montagne proverbiale : en examinant et en élaborant une étude générique du site et en identifiant les pratiques recommandées avant chaque travail, par exemple la sécurité, l'assurance, le personnel, l'équipement et les permis. En organisant cette discussion d'un bout à l'autre du pays, nous cherchons également à développer notre réseau national d'installateurs d'enseignes. Bref, notre objectif est que l'ensemble des normes convenues améliore la qualité globale des travaux d'installation.
Nous espérons que vous vous joindrez à nous pour ce « rodéo » et que vous participerez au dialogue national.
La participation à cet événement est gratuite pour les membres.