Safety through loss prevention, presented by Federated Insurance
Friday, September 23 | 10:30 AM – 11:00 AM | Innovations Stage, Booth #536
Chris Leahey discusses running a safe job site – basics steps and ideas to reduce the risk of a claim or loss that could impact your business.
3M Canada Training: Graphics & Signage for Back to the Corporate Workspace
Friday, September 23 | 9:30 AM – 12:00 PM; Saturday, September 24 | 11:30 AM – 2:00 PM | Learning Hub, Booth #455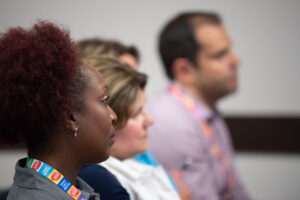 Re-opening and back to the corporate workspace trends are generating an abundance of graphics & signage applications. Learn new graphics applications and installation techniques to be more efficient and profitable, and avoid costly re-work. 3M's Applications Specialist will provide product recommendations, demonstrations and application tips and tricks to ensure successful installations for walls, windows, and floors, etc. Also introduction to DI-NOC architectural finishes and Fasara glass finishes. Paid session, if you have not pre-registered, see Sign Association of Canada staff in the The Hub, Booth #155.
Intentional Illumination for Brands, Spaces and Signage, presented by Sloan LED
Friday, September 23 | 11:15 AM – 11:45 AM | Innovations Stage, Booth #536
Join Susan Svotelis and Jake Kuehn from SloanLED as they explore how the best use of light can elevate brand perception, create comfort, motivate consumers, and enhance the retail experience.
RGB 2.0, presented by Allanson International
Friday, September 23 | 12:00 PM – 12:30 PM | Innovations Stage, Booth #536

Learn how RGB color changing and animating technology can be used to enhance standard signage. Learn how to apply animation to signs, how to create spectacular effects to standard signage and bring new possibilities to designers, architects, and specifiers. Gain an understanding of the controller options that exist and their various uses for different project needs. Presenter: Pierre Carreau, Sr. Account Executive, Allanson International.
Solution Series Highlights, presented by Arlon
Friday, September 23 | 12:45 PM– 1:15 PM | Innovations Stage, Booth #536
Join Richie Daize and Glen Debes from Arlon for Sign Shop Life Hacks that help you find success through labor and material shortages.